What is India Famous for
If we make a list of the most diverse countries in the world, India will be on this list. It believes in the concept of "Unity in diversity." India is diverse in many aspects like geographical, cultural, spiritual, religious, festival, weather, language, food, tourism, etc. India is famous for each of these factors.
It is very difficult to explain in one article or even a book itself. This country has something for everyone. It gives you a way to live your life.
Most people associated India with Bollywood and food. They merely know anything about this country. There are hundreds of topics and it is hard to mention all of them. So we make a list of 18 amazing and surprising things for Indian famous. Suppose you are about to visit or just curious to know something awesome things about India. In that case, this post is going to give a brief journey to India.
1. A brief introduction to India
India is located in South Asia. It is surrounded by sea on three sides, i.e., the Indian Ocean on the south, the Arabian Sea on the southwest, and the Bay of Bengal on the southeast. The great Himalayas is situated on reaming side. It is the seventh-largest country by land area.
Neighbor countries of India include Pakistan, China, Nepal, Bhutan, Bangladesh, Myanmar, Sri Lanka, and the Maldives. When it comes to the population, it is second after china on the list. It is projected to overtake China in the next forty years.
A fun fact is that – the number of births in India every year is more than the total population of Australia. India has the biggest democracy in the world in terms of population.
The name "India" comes from River Indus. The bank of the Indus was the home of the early people, The Aryans. They called River Indus "Sindhu." When Persian invaders came, they pronounced it as Hindu. In Persian word, 'stan' means land or country, so India also refers to Hindustan. It is also known as "Bhārat" in the native language, named after a great king called Bharat. It has 28 states and 8 union territories.
| | | |
| --- | --- | --- |
| 1. | Official Name | Bhārat (Sanskrit), India (English) also Hindustan |
| 2. | Location | Asia |
| 3. | Geographical Location | Between latitudes 8° 4′ and 37° 6′ North and longitudes 68° 7′ and 97° 25′ East |
| 4. | Area | 3,287,263 square kilometers |
| 5. | Coastline Length | 7,516 km |
| 6. | Capital | New Delhi |
| 7. | Languages | There are two official languages of the Union Government of India, namely Hindi and English. |
| 8. | Population | 1.366 billion (2019 Census) |
| 9. | Population Density | 382 persons per square kilometer |
| 10. | Sex Ratio | 943 females per 1,000 males |
| 11. | Literacy | 73.00% |
| 12. | Major Religions | Hinduism (80%), Islam (14%), Christianity (2.3%), Sikhism (1.7%), Buddhism (0.7%), Jainism (0.4%), Other |
| 13. | National Anthem | Jana Gana Mana, written by Rabindranath Tagore |
| 14. | National Song | Vande Mataram, originally composed in Sanskrit by Bankimchandra Chatterji |
| 15. | National Emblem | An adaptation of the Lion Capital of Ashoka at Sarnath |
| 16. | National Animal | Royal Bengal Tiger |
| 17. | National Bird | Peacock |
| 18. | National Flower | Lotus |
| 19. | National Tree | Banyan |
| 20. | National Fruit | Mango |
| 21. | National Currency | Indian Rupee (₹ / INR) |
| 22. | National Sport | Hockey (Unofficial) |
| 23. | National Flag | Called as "Tiranga" means three colors. Horizontal tricolor in equal proportion of deep saffron on the top, white in the middle, and dark green at the bottom. In the center of the white band, there is a wheel in navy blue color. |
| 24. | Important days | 26th January (Republic Day), 15th August (Independence Day) |
| 25. | Country code | +91 |
| 26. | Time zone | UTC+5:30 (IST) |
2. List of 18 Amazing and Surprising things for which India is famous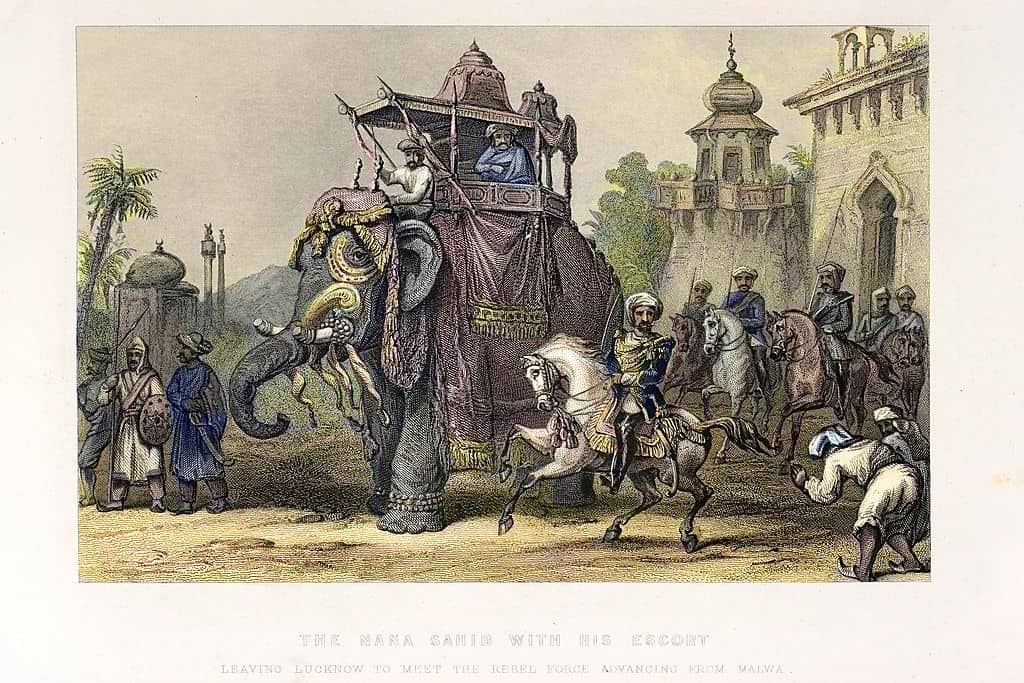 1. History
The history of India is very dynamic. From the Indus Valley Civilization's birth to the present, there are so many ups and downs. Hindus are natives of India, not Indians. In 1493 on his first voyage, Columbus met natives of America. He mistakenly took them as natives of India and described them as "timid and full of fear." On the other hand, India was a very prosperous land.
India and its people suffer many invasions. Chengis Khan (Mongolia) invaded and looted India many times. On the quest to rule over the world, Alexander the Great came to conquer India too but lost the battle with Porus.
In the year 1526, Babur invaded India and established the Mughal Empire. In the early 17th century British invaded and ruled for almost 200 years. India was one of the richest countries on earth before this last invasion.
India gets its independence on 15th August 1947. Also, because of these constant integrations of migrating people with diverse cultures, India got its diversity. Now, most importantly, India never invaded any country in the world. what is India famous for
2. Culture
Culture is just not about only religion. It can be referred to as the thought process of people. India is famous because Indian culture is well known for spirituality, tolerance, and secularism. Indians believe in the concept of "Vasudhaiva Kutumbakam."
It means "the world is one family." There are languages, religions, traditions, rituals, dances, music, architecture, and customs that differ in every corner of the country. History with multiple invasions is the reason behind a strong and diverse culture. People who seek enlightenment come here to find their meaning and goal in life.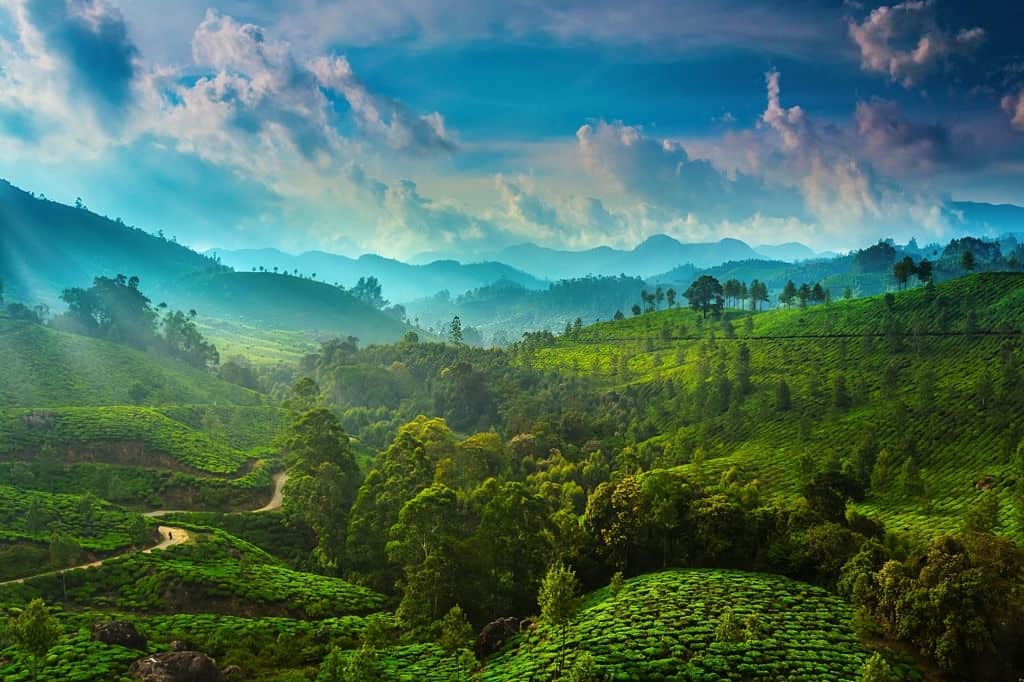 3. Landscape Beauty
Some geologists say that almost 50 million years ago, India was part of Antarctica. It was connected with the Asian continental plate. Then due to the movements of tectonic plates, it is separated by an ocean. India is blessed with a vast range of landscape beauty.
Suppose you want to enjoy magnificent views of mountains, waterfalls, forests, beaches, hill stations, islands, deserts, etc., in one tour. In that case, India is the right place to go.
The great snow-capped Himalayas is situated in the North-East of India. It is home to 9 out of 10 of the world's highest peaks. From snow to desert, you will enjoy the golden sand dunes of the Thar Desert at Jaisalmer (Rajasthan).
Now to enjoy the greenery and adventure of wildlife, there are 103 national parks and 544 wildlife sanctuaries. There are so many places yet to be counted like beaches at Goa, hill stations of Kerala, waterfall and forest areas of Himachal Pradesh, islands of Andaman, etc. to famous India.
4. Tourism
Indians believe in the concept of "Atithi Devo Bhav." It means "the guest is equivalent to god." Every year almost 10 million foreign tourists visit India. India is famous for its diverse Indian culture, landscape beauty, variety of flora and fauna, temple, historical forts, art, folk dance, food, shopping, etc.
India is also treated as one of the best shopping destinations. It is famous for shopping because the bazaars (markets) provide everything you need like fashionable clothes, attractive souvenirs, jewelry, handcrafted wooden furniture, masala (spices), etc.
Some of the most famous shopping destinations are Jodhpur and Jaipur in Rajasthan, Mumbai, Delhi, night bazaars of Goa, handicraft villages in Odisha, and Kanchipuram(for silk sarees) in Tamil Nadu.
There are hundreds of unique and mysterious things which attracted tourists from all over the world. In Maharashtra, Shani Shingnapur is a village where houses don't have any doors or locks. They believe Lord Shani (son of the Sun god) guards the village.
In Kerala, At the Punnathoor Cotta Elephant Yard Rejuvenation Centre in Kerala, There is a spa, especially for elephants where they get baths, massages, and food. Now my favorite "Anti-Gravity Magnetic Hill" of Ladakh, where placing your car at the right place, will begin to move uphill automatically.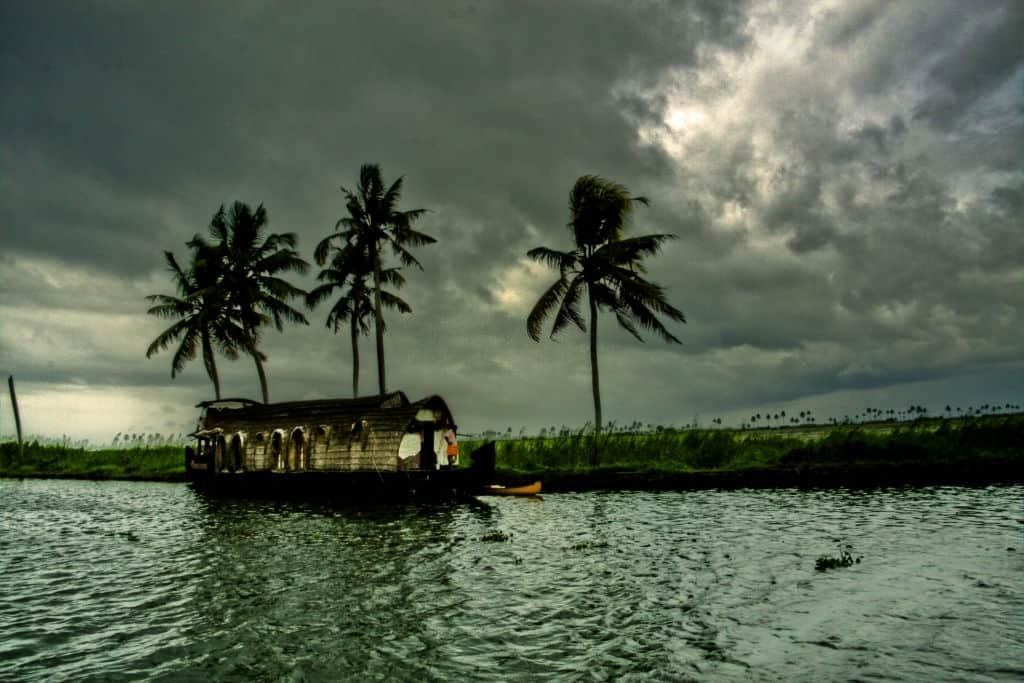 5. Climate
The geographical conditions of any region affect the climate. Before visiting any place, you should be aware of its weather conditions. The direction of wind plays an important role in weather forecasting.
The word "monsoon" is derived from the Arabic word "Mausim," which means a seasonal change in the wind direction. There are two seasonal winds in India- the northeast monsoon and the southwest monsoon.
The northeast monsoon is popular as the winter monsoon and blows from land to sea. The southwest monsoon is popular as the summer monsoon and blows from sea to land. It is also responsible for rain. Both of them cross the Indian Ocean, the Arabian Sea, and the Bay of Bengal.
You cannot generalize Indian weather conditions. India follows a six-season (Ritu) calendar, i.e., spring (Vasant), summer (Grisham), monsoon (Varsha), autumn (Sharad), prewinter(Hemant), and winter (Shishir).
It is a very surprising fact that, on the one hand, the Thar Desert in Rajasthan barely has rained. On the other hand, Mawsynram (Meghalaya), the Wettest Place on Earth, gets almost 12,000 mm of rain every year. It holds Guinness's record for the highest average annual rainfall.
6. Religions
Religion and spirituality are interconnected concepts. Faith and belief are the main keywords for any religion in the world. As per the constitution, India is a secular state. India is the birthplace of four major religions – Hinduism, Buddhism, Jainism, and Sikhism.
Almost 25% population of the world follows these religions. Besides these four religions, Islam (14%) and Christianity (2.3%) are also very popular. Every religion has common beliefs about peace and harmony.
Hinduism is almost 2600 years old, i.e., one of the oldest religions in the world. In India, almost 80% population follows it. There are so many theories about the origin of Hinduism. It is not an organized religion.
People follow their approach in every locality, but the ultimate goal is 'Moksha (liberation).' There are 33 Koti (means' type', not 10 million) devotees in this religion. Among many scriptures, ' Bhagavad Gita' and 'Vedas' are the most popular, to famous India.
In the 15th century, Guru Nanak Dev founded Sikhism in the Punjab region. This religion guide people to live a life of selfless serving. The word "Sikhs" means 'students' or 'disciples' of the Guru. There 1.72% of the Indian population are Sikhs. Throughout history, Sikhs sacrifice their lives for peace and harmony. They believe in one God. "Guru Granth Sahib" is the most important scripture in Sikhism.
Over 3,000 years ago, in the 5th century BC, Buddhism was founded by Gautama Buddha (Siddhārtha Gautama). Popular all over Asia, it is the 4th largest religion in the world. Buddhists (0.7% of the Indian population) follow the way of life and liberation paved by Gautama Buddha.
Originating in Gujarat, India, Jainism was founded in the 6th century BC. Almost 0.4% of the Indian population belongs to Jainism. The main principle of Jainism is ahimsa (non-violence). There are twenty-four Tirthankaras (leaders or masters) who guide people. Jains believe in minimal use of resources and are strict vegetarians.
7. Arts and Architecture
Indian arts and architecture are very popular and unique all over the world. It shows the effect of multicultural diversity. There are 38 UNESCO World Heritage Sites in India.
The famous Taj Mahal, one of the Seven Wonders of the World, is known for its incredible architecture. Other most admired monuments are Konark's Sun Temple (Odisha), Hawa Mahal (Jaipur), Qutub Minar (New Delhi), Ajanta caves (Maharashtra), etc.
In 2018 India build the world's tallest statue, "Statue of Unity." It has a length of 597 ft (182 m), which is twice the size of New York's Statue of Liberty. This statue is a sculpture of eminent freedom fighter Sardar Vallabhbhai Patel. Also, he was the first Home Minister of independent India.
8. Language
Language is a way to communicate our feelings and thoughts. It may be verbal or non-verbal. India is the origin place of the language Sanskrit which itself origin of many languages.
Although there are 447 languages spoken in India so famous, the constitution considered 22 official languages, which are Assamese, Bengali, Gujarati, Hindi, Kannada, Kashmiri, Konkani, Malayalam, Manipuri, Marathi, Nepali, Oriya, Punjabi, Sanskrit, Sindhi, Tamil, Telugu, Urdu, Bodo, Santhali, Maithili, and Dogri.
The official languages of India are Hindi and English. Almost 4.5% population of the world speaks Hindi. It is 3rd most spoken language in the world after Mandarin and English.
Despite originating from Great Britain, there 10% of the Indian population speak English. After the US, India is the second-largest English-speaking Nation. Besides these two languages, other popular languages are Bengali (the second most spoken language in India), Telugu, Tamil, Urdu, and Punjab.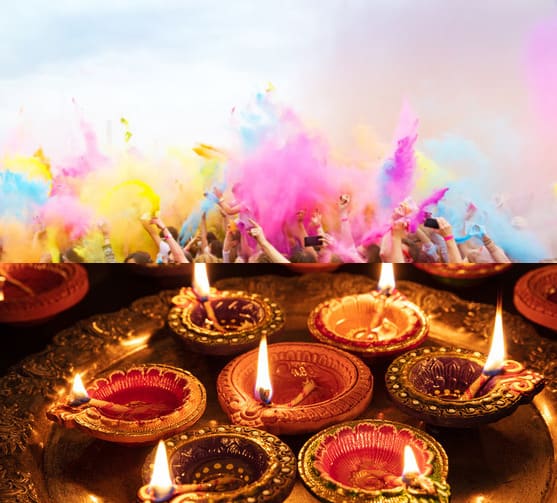 9. Festivals
When it comes to celebrating colorful and bright festivals, India will be in the front seat at the show. Festivals are the symbol of joy and fun. Diwali (festival of lights), Holi (festival of colors), Dussera, Durga Puja, Ganesh Chaturthi, Krishna Janmashtami, Christmas, and Eid are major festivals of India.
These are also celebrated all over the world. Each festival is associated with an amazing origin mythological story, a great celebration with families, exchanging gifts, enjoying delicious food, wearing bright clothes, etc.
There are also some popular religious public gatherings like The Kumbh Mela. It is one of the world's largest peaceful gatherings. It is unique and special because it is celebrated in a cycle of 12 years.
This whole meeting of millions of Locals and foreigners on the bank of the Ganges can be seen from space. They come here to get spiritual education, religious discourses with saints, and once-in-life spectacles.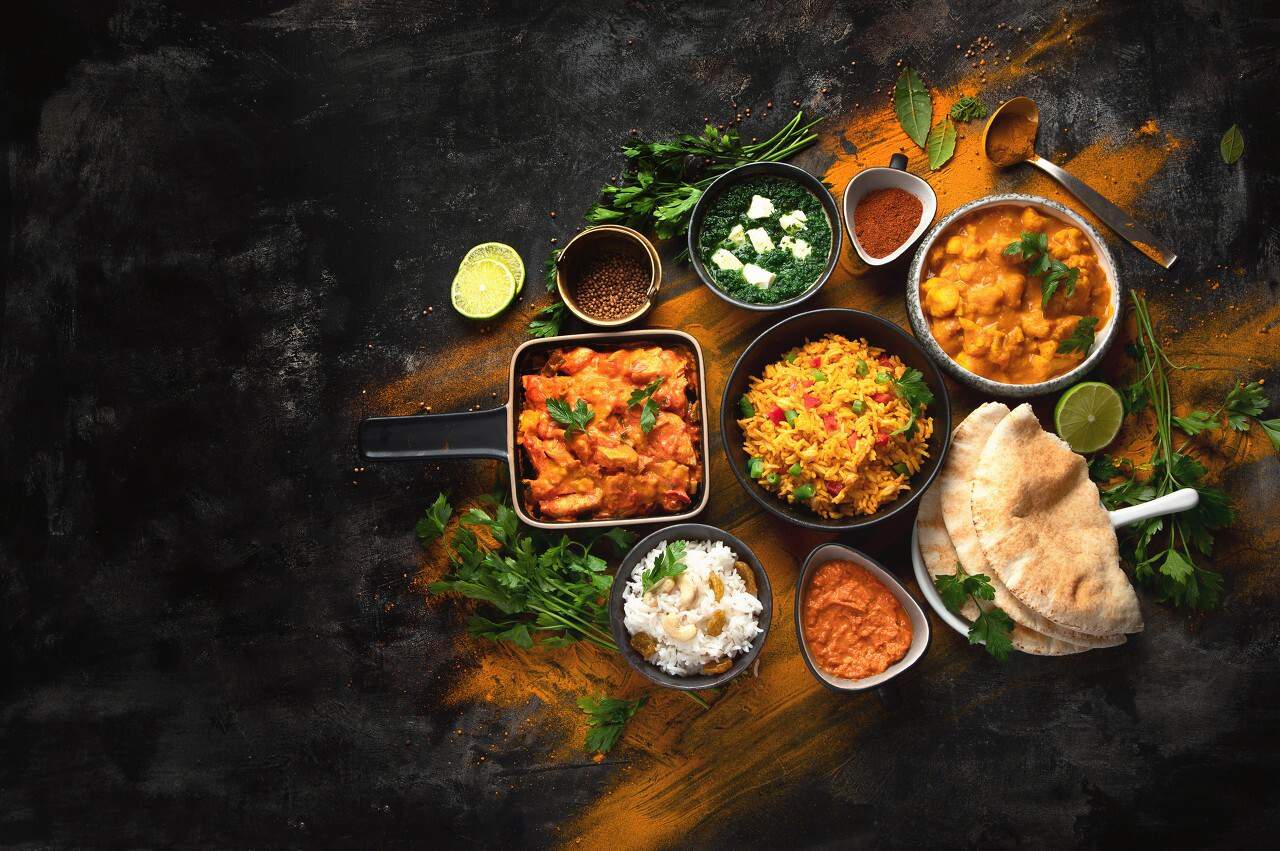 10. Food
Indian food has its own identity all over the world. It is an integral part of Indian culture. You can find an Indian restaurant in almost every part of the globe. It is also one of the main attraction points for tourists.
There are various flavors of foods on the list India is famous, which is very popular for its unique and tasty spices like Red Chiles, Cinnamon, Turmeric, Cardamom, Coriander, Cayenne Pepper, Saffron, Cumin Seeds, etc. As a producer of food, India is the largest supplier of mangoes (40%), bananas, spices, milk, jute, beeswax, Sunflower seeds, ginger, etc.
We can write a whole book on Indian cuisine. Every Indian state has its own traditional and regional food. We cannot mention all of them. But some famous Indian foods are:
Sweet Dishes (mithai): Gulab jamun, Jalebi, Rasgulla, Ghewar, Kaju katli, Ladoo, Barfi, Rasmalai, Malpua, Halwa,
Snacks: Dhokla, Vada Pav, Aloo Tikki, Kachori, Pakora, Samosa, Bhakarwadi, Dosa, Pani Puri, Medu vada, Momos
Meal: Curry, Shahi paneer, Aloo Gobhi, Naan, Churma-Bati, Chole-bhatura, Rajma, Biryani, Butter chicken, Korma
Beverages: Indian Masala Chai (Tea), Punjabi lassi, Chaach (buttermilk), Thandai, Kosna (rice beer), Sherbet
11. Train system
Although the whole Transportation system of India is interesting to know, the Indian train system is very popular for so many facts. India is famous because It is the third-largest network in the world, with a coverage of 127,760 kilometers in length.
With more than 12,000 trains and 7172 stations covering almost the whole country. Every day 23 million people travel by train, which is equal to the population of Australia.
There is the highest railway bridge (1,178 feet) in Jammu. It is taller than the Eiffel Tower. Jeevan Rekha Express or The Lifeline Express is the first hospital train in the world. It provides services for cancer treatment to remote villages.
UNESCO includes historical the Chhatrapati Shivaji Terminus, the Darjeeling Himalayan Railways, Nilgiri Mountain Railways, and Kalka Shimla Railway in the World Heritage site list. Bholu, the guard elephant, is the mascot for Indian Railways.
12. Film industry/Bollywood
In Present Indian film industry is very popular in India as well as worldwide. Indian film industry produces the highest number of movies in the world. More than 1500 movies in Hindi, Marathi, Tamil, Telugu, Malayalam, Kannada, Bengali, Punjabi, Bhojpuri, and Tulu films per year. These film industries are also popular as Bollywood (Hindi), Kollywood (Tamil Cinema), Mollywood (Malayalam), Tollywood (Telugu), Sandalwood (Kannada), etc.
Each of these industries has its signature styles for high-class drama, amazing dance sequences, and melodic songs. Many superstars got fame all over the globe like Amitabh Bachchan, Rajinikanth, Shahrukh Khan, Hrithik Roshan, Irrfan Khan, Deepika Padukone, Priyanka Chopra, Aishwarya Rai, etc. Dada Saheb Phalke is called the father of Indian cinema. He was the director, producer, and writer.
13. Sports
Sport makes us strong both physically and mentally. From ancient times India gave importance to indoor and outdoor sports equally. Some games like Snakes and Ladders, and Chess were born in India. In the 13th century, Indian Saint Gyandev created the game Moksha Patamu (Snakes and Ladders).
His intention was to teach people about karma, i.e., good karma takes you to heaven and evil to a cycle of rebirths. Chess is a modern form of an ancient Indian strategy game, "Chaturanga (four army members)."
Although Hockey is the national sport of India, Cricket is more popular among people. Indian cricket team won many championships and is one of the most successful teams in the world. Some famous Indian cricketers are Sachin Tendulkar, Kapil dev, MS Dhoni, Virat Kohli, etc. In kabaddi, India is the undisputed champion. Indian National Kabaddi Team has won all 5 world cup trophies in a row.
14. Yoga
India is famous because Yoga is a gift from India to the world. Yoga originated thousands of years ago in India. Today yoga becomes very popular for improving physical fitness, spiritual growth, and relaxation techniques. It includes asanas (postures), chants, and meditation. It also helps to stay focused and balanced. Since 2015, on 21st June, the "International Day of Yoga" has been celebrated every year.
The word "Yoga" means the Sanskrit root "yuj," which means to attach, join, harness. Yoga unites us with God. In Rigveda, one of four Vedas mentions yoga. In Hinduism, Buddhism, and Jainism, yoga existed with a variety of practices and goals. Sage Maharishi Patanjali is the author of "Yoga Sutras of Patanjali," a true pioneer of yoga.
15. Ayurveda
Indian healing and medicine systems Ayurveda is one of the oldest (more than 3,000 years). It originated during the development of the Vedic civilization.
India is famous because It is mostly associated with the Hindu god Dhanvantari (an avatar of Vishnu). Atharva Veda mentioned Ayurveda and detailed study of several diseases with their treatments.
The main core of Ayurveda is the balance of three principal Energies of the body; Vata (energy of movement), Pitta (energy of digestion), and Kapha (energy of lubrication and structure). All three elemental doṣas affect our body, mind, and spirit. It uses herbal remedies, natural therapies, meditations, and a balanced diet to make it more effective with negligible side effects.
Sushruta and Charaka are known as "The Fathers of Medicine." 2500 years ago, Charaka consolidated Ayurveda in his book Charaka-Samhita. In this book, he included depth and content on classical Indian medicine and Ayurveda.
Over 2600 years ago, Sushruta did complicated surgeries like cataracts, plastic surgery, cesareans, fractures, urinary stones, and brain surgeries. In his book "Sushruta-Samhita," he explained in detail his methods and different surgical tools. In ancient Indian medicine, there is also mentioned the use of anesthesia.
16. Mathematics
"We owe a lot to the Indians, who taught us how to count, without which no worthwhile scientific discoveries could have been made." – Quoted by Albert Einstein.
India is the birthplace of many great personalities, scientists, and mathematicians, i.e., Aryabhatta (among the first mathematician-astronomer), Srinivasa Ramanujan (an Indian mathematician), CV Raman (Nobel Prize awardee), APJ Abdul Kalam (the Missile Man of India), Shakuntala Devi (known as the Human-Computer), Homi J Bhabha (Nuclear Physicist) and many others to India is famous.
Here we mention some of them:
The great mathematician-astronomers Aryabhatta (476 AD – 550 AD) discovered the concept of Zero (0) and place value. He also approximated the value of pi up to four decimal points (3.1416).
He also covers various important topics in arithmetic, algebra, plane trigonometry, and spherical trigonometry, i.e., continued fractions, quadratic equations, sums-of-power series, and a table of sines.
Another great astronomer and mathematician, Brahmagupta (597 AD – 668 AD) done mathematical operations with zero. He provided many important concepts like negative numbers, solutions of the general linear equation, the sum of the squares and cubes of the first n integers, Pythagorean triplets, formulas for cyclic quadrilaterals, etc. He wrote an important book about mathematics and astronomy, i.e., Brāhmasphuṭasiddhānta and Khaṇḍakhādyaka.
The Vedic scholar Acharya Pingala mentioned the binary number system (0 & 1) in his book Chandahśāstra. Chandahśāstra or Pingala-sutras is the earliest known treatise on Sanskrit prosody.
Bhāskarācārya or Bhāskara II, a 12th-century mathematician and astronomer, developed the concept of differential calculus way before Newton and Leibniz. He had done great work in Algebra, Calculus, Arithmetic, and Trigonometry.
Srinivasa Ramanujan was (1887-1920) a true genius. Without any formal training in mathematics, His many theories and discovery still amaze many people. He solved many mathematical problems like mathematical analysis, number theory, infinite series, and continued fractions. He was the youngest Fellow of the Royal Society and the first Indian selected as a Fellow of Trinity College, Cambridge.
Jagadguru Shri Bharathi Krishna Tirthaji wrote "Vedic Mathematics," which mentions techniques for mental calculation. This book helps us solve mathematical operations of arithmetic, algebra, geometry, calculus, conics, etc., in an easy and faster way. Vedic Mathematics is a collection of 16 Sutras (Formulae) and 13 sub-sutras (Sub Formulae).
Shakuntla Devi, known as the "Human-Computer," was given this title after correctly calculating two randomly picked 13-digit numbers: 7,686,369,774,870 × 2,465,099,745,779 in 28 seconds. She was the world record holder in the 1982 edition of The Guinness Book.
17. Inventions
From ancient times, there are so many examples of remarkable discoveries and inventions done by Indians. From Jugaad (Frugal innovation) to High-class Inventions, Indians have done excellent work. It is hard to mention all of them, but some amazing and interesting facts about Indian Inventions are:
The famous Howrah Bridge (over the Hooghly River in West Bengal) does not have any nuts and bolts and no pillars supporting its suspension. The whole structure is riveted together using 26,500 tons of steel, out of which 90% (23,000 tons) was India's first high-tensile steel alloy Tiscrom. Tata Steel manufactured and supplied this alloy.
India was the first country to consume sugar. In 350AD, Indians learned how to extract and purify sugar cane from sugarcane and discovered its properties in medicine.
1,600 years old Iron pillar of Delhi is famous for the rust-resistant in the world. This three tonnes (6,614 lb) weighted and 7.21 m (23 ft 8 in) tall pillar was constructed by Chandragupta II.
In the 1780s, Tipu Sultan, the ruler of the Kingdom of Mysore, invented the first iron-cased rockets (2 km range). He used them against the larger forces of the British during the Anglo-Mysore Wars.
India started mining diamonds along the rivers Penner, Krishna, and Godavari 5,000 years ago. India was the primary source of diamonds in the world until 1896.
In 2000 BCE, Indians used Buttons first in the Indus Valley Civilization for ornamental purposes.
The carvings found in Ajanta Caves, the Indus Valley Civilization, also started cotton cultivation. They discovered a way to separate cotton from the seeds. A simple handheld roller gin called the Charkha had been used for this purpose.
Dr. Narinder Singh Kapany, an Indian-American physicist, is popularly known as the 'Father of Fiber Optics' for his excellent work in Fiber Optics technology. In 1960, he coined the term "fiber optics."
Vinod Dham invented the famous microprocessor "Intel Pentium Chip." He popularly has known as "Father of Pentium Chip." He is an Indian-originated inventor, entrepreneur, and venture capitalist.
An Indian-American computer architect Ajay Bhatt co-invented the USB (Universal Serial Bus). It is a tiny data storage gadget that was co-invented by Ajay. He did this to bring change, not to make money.
Shampoo was invented in India. The word "shampoo" is derived from the Sanskrit word champu, which means to massage. They used herbs instead of modern liquid types.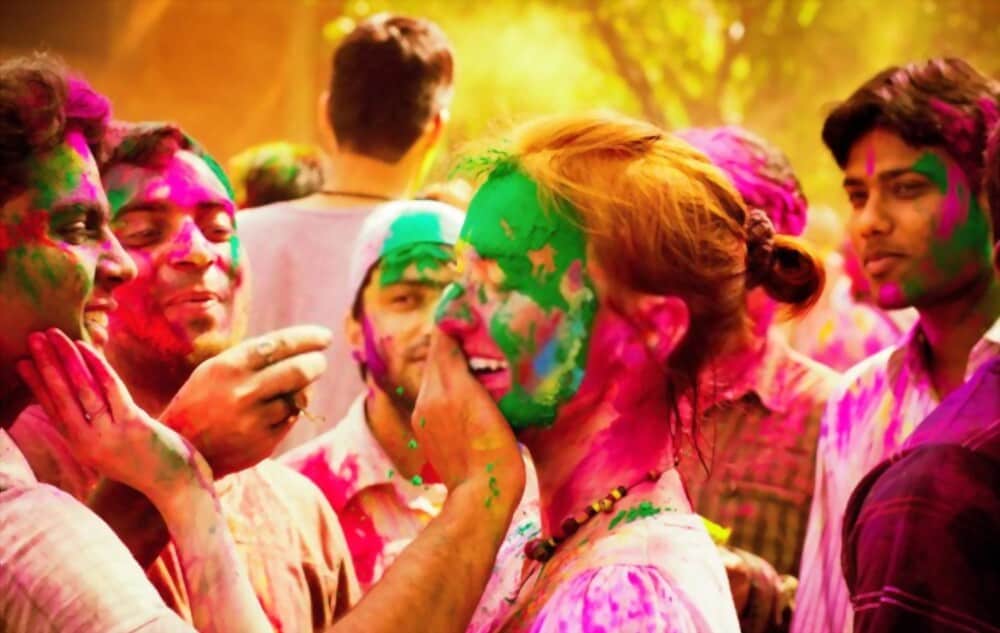 18. Indian people
We talk about history, culture, Landscape beauty, art, architecture, religion, language, food, etc. But ultimately, a country is known by its people. Over time, after facing lots of adverse conditions, Indians prove their talent & the power to bring change in the world.
India provides many engineers, software developers, scientists, entrepreneurs, and managers to the world. We already mentioned in the above points how much talent they have. After the United States and the UK, India is third in terms of records claimed in the Guinness Book of Records.
The characters and personalities of Indians portray wrongly in many movies. You cannot generalize the character of people with a large population and diverse culture. So we try to divide the Characteristic Traits of Indians into different criteria:
Positive Aspects: Optimists; Resilient; Affable; Humble; Spirituality; Hospitality; tolerant; Joint family system;
Negative Aspects: Superstitious; Gossiper; Judgmental; Unpunctual; Blasé attitude; Comparison with others;
3. Conclusion
If you believe me, India is just not a country on the globe. It is a life-changing experience. You will find different feelings of charm, peaceful, welcome, friendly, and pride, all at the same time. So India is famous, If the whole world is the perfect dish, then India is like the main ingredient. If you visit India once, it will be one of the best memorable moments.