The Most Handsome Men in The World: Every day we see many faces. But some of them stuck into our minds. It may be charm, aura, attraction, or appeal, whatever you want to call. Most of the time, people use these terms for beautiful women.
But beauty does not discriminate. Our world is full of beautiful personalities. Many men around us draw the attention of everyone. Not just a good look, it could be any reason like great personality, sense of humor, positive appeal, intelligence, popularity, or humbleness, etc.
There are many lists of "the handsome man in the world" all over the web. We do not want to stick at actors and models only. So we make a unique and innovative list as per different occupations.
These handsome men are doing excellent work in their profession and have attributes like a nice look, dashing body, attractive personality, intelligence, politeness, charm, etc. All of them are popular throughout the world.
A handsome man may or maybe not be a gentleman, but a gentleman will always be handsome. Therefore we should know all the important characteristics of a handsome man before we start. These are criteria to help us to find the best person for our list.
| | | |
| --- | --- | --- |
| Altruistic | Attentive | Confident |
| Dashing body | Facial features | Integrity |
| Intelligence | Passionate | Resilient |
| Sense of humor | Sincerity | Supportive |
List of Most handsome men in the world
Actor- Chris Hemsworth
Date of Birth: 11 August 1983
Place of Birth: Melbourne, Australia
Height: 1.9 meter
Best known for: Thor (in Eight Marvel movies)
Chris Hemsworth is indeed a talented actor. He is one of the most handsome actors. His muscular body, good sense of humor, and humbleness make him perfect for this list. He becomes very popular after portraying the role of "Thor" in marvel cinematic universe films. Chris was listed as the "Sexiest Man Alive" by People magazine in 2014. He also involves in many events to promote public welfare.
2. Artist- Jwan Yosef
Date of Birth: 6 September 1984
Place of Birth: Syria
Height: 1.72 meter
Best known for: plastic arts
Jwan Yosef is a Swedish artist and painter. His specialty is in plastic arts. In his career, Jwan has taken part in many group exhibitions and art fairs. He is a founding member of "The Bomb Factory Art Foundation" in Archway, North London. In 2017 he married Puerto Rican singer Ricky Martin. They have four children.
3. Businessman – Evan Spiegel
Date of Birth: 4 June 1990
Place of Birth: Los Angeles, California, United States
Height: 1.83 meter
Best known for: Snap Inc. (Co-founder)
Evan Thomas Spiegel is co-founder and CEO of the social media company Snap Inc. In 2011 He created Snapchat (initially called Picaboo) with two other Stanford classmates Bobby Murphy and Reggie Brown. As of May 2021, Snapshot has 500 million monthly active users. Spiegel had chosen as "the youngest billionaire in the world" in 2015. His latest estimated annual income is US$11.9 billion. In 2017, he married Australian model Miranda Kerr. He is rich with money, intelligence, and a dashing personality.
4. Chef – Vikas Khanna
Date of Birth: 14 November 1971
Place of Birth: Amritsar, Punjab, India
Height: 1.84 meter
Best known for: Indian chef, restaurateur, cookbook writer, filmmaker, and humanitarian
Vikas Khanna does not need any introduction. He is a famous Indian originated chef and owner of Michelin Star restaurant "Junoon" in New York, USA. Khanna is one of the top 10 chefs globally, as per Deutsche Welle News and Gazette Review. In 2011, he was listed as "the Sexiest Man Alive" by People Magazine. During the COVID-19 pandemic, he recently got the "Asia Game Changer Award 2020" for feeding millions across India.
5. DJ – Calvin Harris
Date of Birth: 17 January 1984
Place of Birth: Dumfries, Scotland
Height: 1.97 meters
Best known for: Highest-paid DJs for six consecutive years from 2013 to 2018 (as per Forbes)
Calvin Harris, aka Adam Richard Wiles, is a very popular DJ (disk jockey), producer, singer, songwriter, and philanthropist from Scotland. His famous 5 studio albums are I Created Disco (2007); Ready for the Weekend (2009); 18 Months (2012); Motion (2014); Funk Wav Bounces Vol. 1 (2017). Besides these, he also released 1 mix album, 7 extended plays, 42 singles, and 40 music videos. In 2010 he founded a record label, "Fly Eye Records." His net worth is $300 Million. He got 9.6 million followers on Instagram.
6. Dancer – Scott Moir
Date of Birth: 2 September 1987
Place of Birth: London, Ontario, Canada
Height: 1.8 meter
Best known for: one of the greatest ice dancers of all time
Scott Patrick Moir is a retired ice dancer and coach from Canada. He partnered with fellow countrymate Tessa Virtue. This duo is the most decorated Olympic figure skater of all time. There is a long list of the championship won by Moir, i.e., 2010 and 2018 Olympic champion, the 2014 Olympic silver medallist, a three-time World champion (2010, 2012, 2017), a three-time Four Continents champion (2008, 2012, 2017), the 2016–17 Grand Prix Final champion etc. After a successful 22 years career, Virtue and Moir announced their retirement on 17 September 2019. For their contribution to sport, Virtue, and Moir was bestowed with the "Order of Canada." and he is The Most Handsome Man in The World.
7. Doctor – Mike Varshavski
Date of Birth: 12 November 1989
Place of Birth: Saransk, Russia
Height: 1.91 meters
Best known for: Youtube channel "Doctor Mike."
Doctor Mike Varshavski is a family medicine physician and internet celebrity. He is inspired by his father to become a doctor. Mike completed his bachelor's degree in life sciences and a doctoral degree in osteopathic medicine from the New York Institute of Technology in 2017. In 2015, after an article publishes in Buzzfeed about him and his dog, he became a new sensation on social media. Today his has 7.34 million subscribers and 917 million views. During the COVID-19 pandemic, Mike donated $50,000 worth of N95 masks. In 2015 People magazine chose him as "The Sexiest Doctor Alive." The Most Handsome Men in The World.
8. Economist – Raghuram Rajan
Date of Birth: 3 February 1963
Place of Birth: Bhopal, Madhya Pradesh, India
Height: 1.85 Meter
Best known for: Most decorated Economist
Raghuram Rajan is one of the greatest Indian economists. In 1995, he joined as a full-time professor at the University Of Chicago Booth School Of Business. Throughout his career, Rajan also served as many important designations like Chief Economist at International Monetary Fund (2003-2007); Economic Advisor to Government of India (2008-2012); Chief Economic Adviser for India's Ministry of Finance (20012-2013); 23rd Governor of the Reserve Bank of India (2013-2016). In 2016, he rejoined the University of Chicago. Rajan also writes many notable books. In 2016, Time magazine included him in the list of "100 Most Influential People in the World".
9. Fashion Designers – Olivier Rousteing
Date of Birth: 13 September 1985
Place of Birth: Bordeaux, France
Height: 1.75 Meter
Best known for: creative director of Balmain
A Fashion Designer makes any person more attractive. Olivier Rousteing, a French fashion designer, is full of charming and attractive personality. He started his career as a designer at Roberto Cavalli in 2003. French luxury fashion house "Balmain" welcomed him in 2009. At the age of 25, Rousteing replaced Christophe Decarnin as the creative director of Balmain in 2011. He has been doing excellent work since then. He has a friendly relationship with many famous celebs like Kim Kardashian, Kelly Rowland, Jennifer Lopez, Rihanna, Björk, Beyoncé, Justin Bieber, Nicki Minaj, Chris Brown etc.
10. Hairdresser – Jawed Habib
Date of Birth: 26 June 1963
Place of Birth: New Delhi, Delhi, India
Height: N/A
Best known for: Jawed Habib Hair and Beauty Ltd.
Jawed Habib is a hairstylist and businessman. He is considered a game-changer in hair education and fashion in India. In 2000, he founded his salon "Jawed Habib Hair and Beauty Ltd." This branded salon has 850 branches and 65 hair academies across 115 cities in India. Habib served as the official styling partner for Miss India. He also wrote three books on the hairstyle. Habib named Limca record for 410 nonstop haircuts in 24 hours. He counted as the only hairstylist to be featured in Times and Forbes magazine.
11. Model – Francisco Lachowski
Date of Birth: 13 May 1991
Place of Birth: Curitiba, State of Paraná, Brazil
Height: 1.87 meters
Best known for Sexiest Model
Francisco Lachowski is a Brazilian model with perfect facial features and an athletic body. He represented many famous brands like Dior Homme, Balmain, Hugo Boss, Etro, L'Oréal, Armani Exchange, H&M, and Tommy Hilfiger. So I added the list of The Most Handsome Men in The World. Lachowski appeared on the covers of popular magazines, i.e., Vanity Teen, Homme Essential, Carbon Copy, Made in Brazil, Chaos, and L'Officiel Hommes, etc. Fashion news website models.com titled him as "Sexiest Men."
12. Politician – Justin Trudeau
Date of Birth: 25 December 1971
Place of Birth: Ottawa, Canada
Height: 1.88 meter
Best known for: Prime Minister of Canada
Charm is one of necessary trait of a politician to impress and convince other. Justin Trudeau is one of the handsome politicians in the world. Justin Pierre James Trudeau is the 23rd prime minister of Canada since November 2015. After Joe Clark, he is the second-youngest prime minister in Canadian history. His father, Pierre Trudeau, was the 15th prime minister of Canada. Justin Trudeau was awarded as "Grand Cross of the Order of La Pléiade" in 2019.
13. Singer – V (Kim Tae-hyung)
Date of Birth: 30 December 1995
Place of Birth: Seo District, Daegu, South Korea
Height: 1.79 meters
Best known for Vocalist in South Korean boy band BTS
Kim Tae-Hyung is the most handsome singer in the world. He is popularly known as stage name "V." Tae-Hyung is a singer, songwriter, and actor. Since 2013, he is a member of the seven-member South Korean boy band BTS (Bangtan Boys). He has also sung some solo songs like "Stigma," "Singularity," and "Inner Child." Tae-Hyung is blessed with a baritone singing voice with a husky tone. In 2016, V introduced the phrase "I purple you" during BTS' fan meeting. After that, purple has become a symbol of BTS and its BTS army.
14. Social media influencer – PewDiePie (Felix Arvid Ulf Kjellberg)
Date of Birth: 24 October 1989
Place of Birth: Gothenburg, Sweden
Height: 1.80 meters
Best known for YouTube channel "PewDiePie"
Felix Arvid Ulf Kjellberg, aka PewDiePie, is the most successful YouTuber in the present. He makes comedy, satirical, vlog, and Let's Play type videos on his channel. Kjellberg holds the title of "the most-subscribed YouTube channel" operated by an individual. He got 110 million subscribers and 27.4 billion views on his channel. PewDiePie was listed as "one of the world's 100 most influential people" in Time magazine in 2016. His net worth is estimated to be $50 million.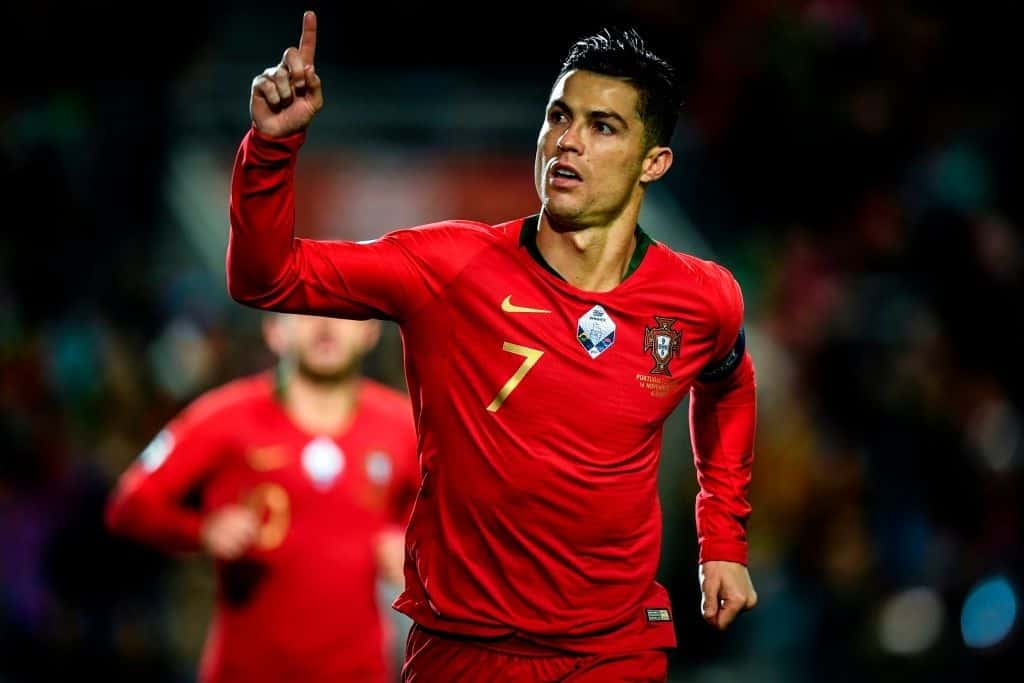 15. Sportsman – Cristiano Ronaldo
Date of Birth: 5 February 1985
Place of Birth: Funchal, Madeira, Portugal
Height: 1.87 meter
Best known for: Best sportsman in the world
Cristiano Ronaldo is indeed the best sportsman in the current era. He is a Portuguese professional footballer. The Most Handsome Men in The World and Ronaldo is captain of Portugal's national team and has played for famous football clubs Manchester United (2003-2009) and Real Madrid (2009-2018). Currently, he is playing for Juventus based in Turin, Piedmont, Italy. Ronaldo has a record of 1,100 professional career appearances and has scored over 780 official goals for club and country. He has won 32 major trophies, 5 Ballon d'Or awards, and 4 European Golden Shoes. His net worth is $500 million in 2021, making him one of the richest athletes in the world.
16. Teacher – Pietro Boselli
Date of Birth: 3 December 1988
Place of Birth: Negrar, Veneto, Italy
Height: 1.85 meter
Best known for: world's sexiest maths teacher
Nobody would believe that this handsome guy "Pietro Boselli" used to teach mathematics. This guy is blessed with charm and brains both. He is an Italian model and former mathematics lecturer at University College London. In 2019, he completed his graduation degree with first-class honors in mechanical engineering. After that, Boselli joined the British modeling agency Models 1. He also has worked with modeling campaigns for clothing retailer Abercrombie & Fitch and fitness club Equinox. On the social media platform Instagram, 2.7 million people follow him.
17. Television Host – Trevor Noah
Date of Birth: 20 February 1984
Place of Birth: Johannesburg, Gauteng, South Africa
Height: 1.81 meters
Best known for: Host of The Daily Show
Trevor Noah is the host of the American late-night talk and news satire television program "The Daily Show" on Comedy Central. In 2015, Noah succeeded the previous host Jon Stewart who was hosting since 1998. He is also a comedian, writer, producer, political commentator, and actor. In 2016, he published his autobiographical comedy book "Born a Crime" and was praised by critics. In 2018, Time magazine listed him as "one of the hundred most influential people in the world." On Instagram, 7.2 million people follow him.
18. Wrestler – Roman Reigns
Date of Birth: 25 May 1985
Place of Birth: Pensacola, Florida, United States
Height: 1.91 meters
Best known for: professional wrestling in WWE
This guy got every essence of a handsome man from physique to resilience. Roman Reigns, aka Leati Joseph Anoa'i, is a professional wrestler, actor, and former professional gridiron football player. The Most Handsome Men in The World and He has been working with WWE since 2010. Reigns has won many championships, including 3 WWE championships and 2 Universal championships so far. He is a cancer survivor (with leukemia). He is the cousin of famous actor and former wrestler Dwayne' The Rock' Johnson.